A major programme of coffee shop openings has been completed at Lithuania's busiest airport. Vilnius International has opened two Caffeine cafés, covering a combined 207sq m and offering 200 seats, and a grab-and-go Huracán Coffee outlet.
In sharing details of the new openings with The Moodie Davitt Report, Lithuanian Airports Head of Sales Gintarė Norvilaitė-Tautevičė also revealed that tenders for duty free, other shops and food & beverage locations are planned for Vilnius Airport, after a passenger terminal expansion project is completed later this year.
The three new F&B openings come from well-known Lithuanian coffee shop brands. Caffeine is a national player with cafés throughout Lithuania and Huracán Coffee, owned and operated by JSC Albas, has seven cafés in Vilnius.
The striking frontage of the new Huracán Coffee shop, which has just opened at Vilnius Airport 
The new Caffeine outlets at the airport are both located airside, one with views of the apron (130sq m) and the other is in the non-Schengen zone (87sq m). Both cafés serve pre-made snacks, desserts and barista-brewed coffee.
Baristas brew the coffee at Caffeine, which is commonly found in tourist locations across Lithuania
"We believe that opening these two large cafés during the peak of pandemic is a huge sign of confidence in both Vilnius airport and the future of air travel as a whole," Norvilaitė-Tautevičė said.
The final opening, from Huracán Coffee, is located in a 15.5sq m airside space in the Schengen zone. It offers a takeaway service – though there are two tables, with seating for eight people – for barista-made coffee, light snacks and pastries.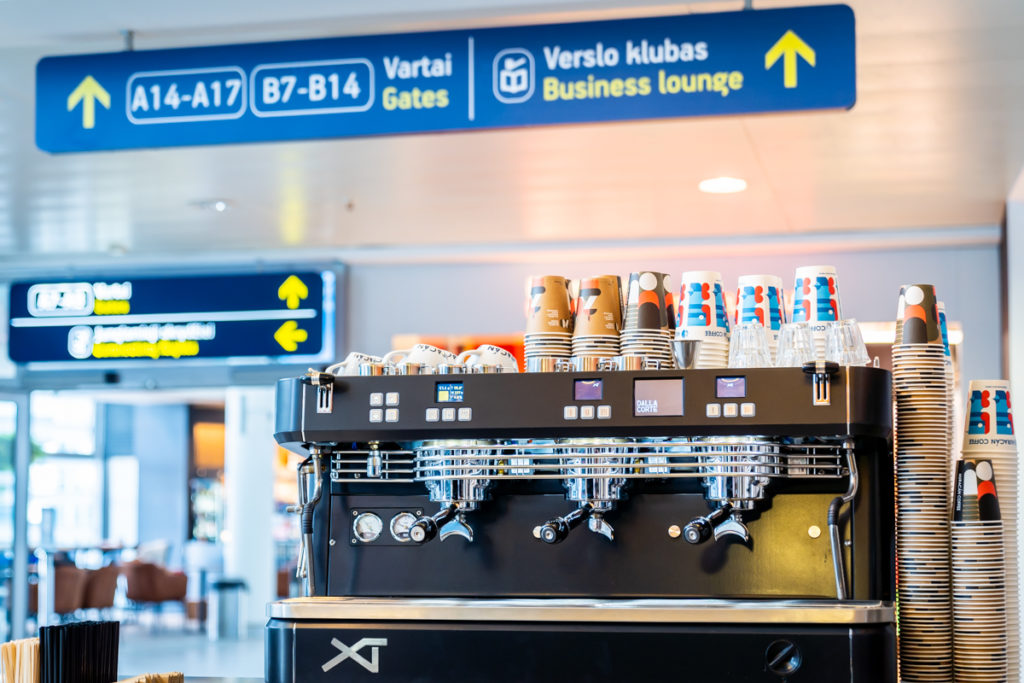 Offering a variety of takeaway coffees and snacks, Huracán Coffee is conveniently located for passengers on the move
Asked about the current traffic situation at Vilnius Airport – which serves as a base for airBaltic, Ryanair and Wizz Air – Norvilaitė-Tautevičė replied: "Currently we have about 1,200 daily passengers, which is about 10% of normal passenger flow, compared with 2019. We expect a faster growth when the aviation summer season begins."
The expanding airport had broken through the five million passenger barrier for the first time in 2019, but COVID-19 effects meant that number plummeted to just over 1.3 million last year.
NOTE TO AIRPORT OPERATORS: 
The Moodie Davitt Report is the industry's most popular channel for launching commercial proposals and for publishing the results. If you wish to promote an Expression of Interest, Request for Proposals or full tender process for any sector of airport revenues, simply e-mail Martin Moodie at Martin@MoodieDavittReport.com.
We have a variety of options that will ensure you reach the widest, most high-quality concessionaire/retailer/operator base in the industry – globally and immediately.
Similarly The Moodie Davitt Report is the only international business intelligence service and industry media to cover all airport consumer services, revenue-generating and otherwise. We embrace all airport non-aeronautical revenues, including duty free and other retail, food & beverage, property, passenger lounges, hotels, car parking, hospital and other medical facilities, the Internet, advertising and related revenue streams.
Please send relevant material, including images, to Martin Moodie at Martin@MoodieDavittReport.com for instant, quality global coverage.